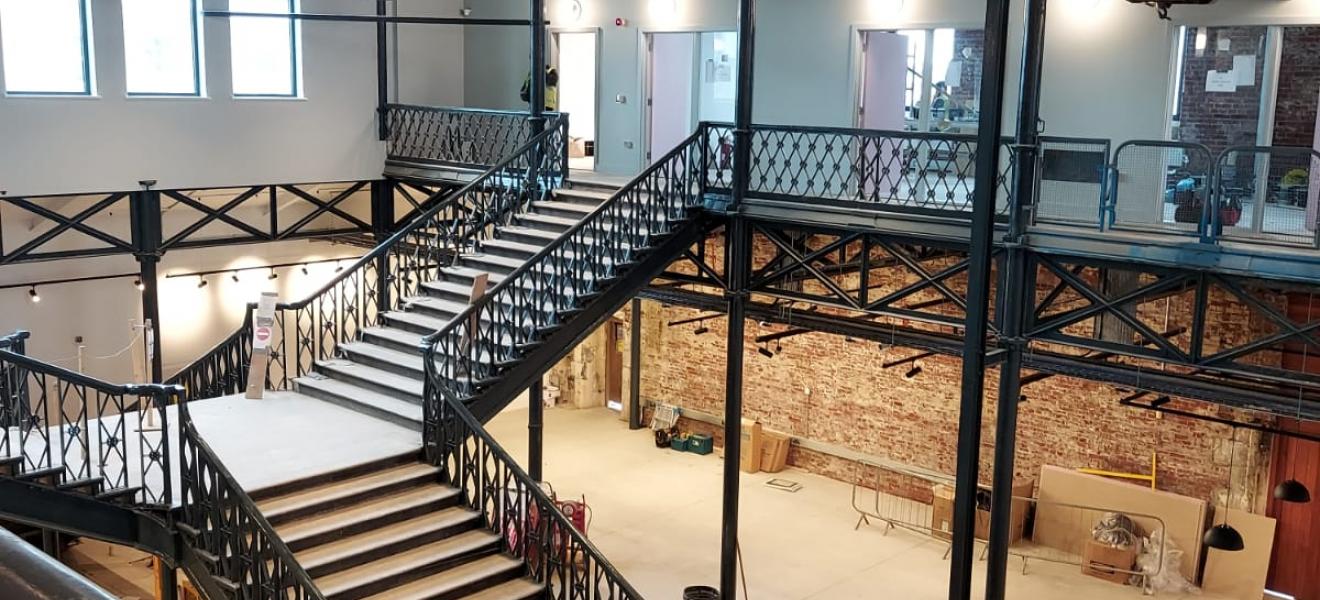 £7.6m Devonport Market Hall development boosts Plymouth's tech cluster credentials
A space for "world class" digital innovation built at the Grade II listed Market Hall in Devonport, Plymouth, is set to open next month (July) and put the city "on the map" as an internationally-recognised tech cluster. 
Developed by Real Ideas Organisation, in partnership with Plymouth City Council and the Institute of Digital Art and Technology at University of Plymouth, the Market Hall is a £7.6m project which will create a new space for digital, especially those working in immersive and creative applications of technology. 
The Market Hall is a world-class space for digital innovation and learning situated in the heart of Devonport. Among its star attractions a 15 metre immersive dome – the first of its kind in Europe.
Needing just 2 projectors to cover the full surface of the dome, the tech at the Market Hall is cutting edge and creates a seamless shared virtual reality experience. The bespoke sound system, boasting 19 channels, encases the Dome and adds to what is a truly immersive experience with the power to transport you anywhere in the universe – real or imagined – that you can dream of.
Lindsey Hall, Chief Executive of Real Ideas said: "The Market Hall really is a game changer. It puts Plymouth on the map internationally as a place with an emerging tech cluster around immersive, and here in Plymouth offers incredible experiences and opportunities to people living and growing up in Devonport and the wider city. 
"It is without a doubt our most audacious project to date. Not only have we breathed new life into another incredible listed building, but we've also brought it into the 21st century. It is immediately relevant and offers untold opportunity as a place for research, development, exploration, learning, collaboration... and, last but not least, a place to come and have fun!  
"I cannot wait to open the doors and let people experience for themselves the magic and wonder of the Market Hall and its Immersive Dome."
Alongside cultural experiences and immersive opportunities in the Dome, the Market Hall will offer creative and collaborative workspace, learning, workshops, meeting rooms, event spaces, a production suite and a café/bar. 
Real Ideas has this month committed to support 13 new creative/tech start up business ideas as part of its Start Something Immersive programme. Many of the cohort will be using the Dome alongside business support from Real Ideas to get their idea or project off the ground right here in Plymouth. 
Open to everyone, and with a wide range of events and experiences for all the family, the dome invites you to explore immersive realities without the need for a VR headset. The Market hall will also offer educational immersive experiences and workshops for all ages and abilities.
The development of the Market Hall is led by Real Ideas, working with Plymouth City Council and a number of key organisations and institutions in Plymouth and beyond. These include Plymouth University, City College Plymouth, Plymouth College of Art, Plymouth Culture, Creative England, Destination Plymouth, Digital Plymouth, Oceansgate, Crowdfunder and has received support from Arts Council England, DCMS and ERDF funding.