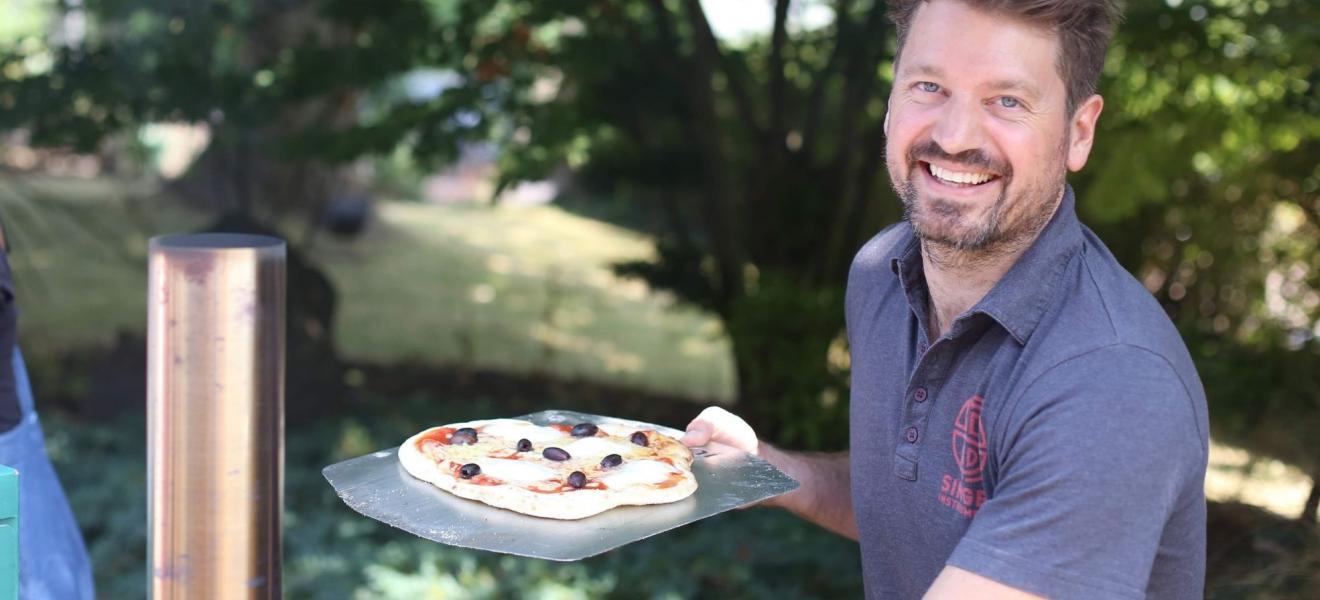 Spider DNA and office barbecues: Harry Singer, Singer Instruments
SWTD spoke to Harry Singer, CEO of Singer Instruments, about his plans for one of the South West's standout tech businesses.
Harry, what is Singer Instruments?
Essentially, we develop laboratory automation to accelerate the research work of scientists who want to make the world a better place. 
From our headquarters in Somerset, on the edge of Exmoor, we have a global customer base across a spectrum of interests such as healthcare, antibiotics, biofuels, renewable fabrics, and plant-based alternatives to meat.
That's quite a spread of sectors.
It really is. One of the best things about my job is learning about all the diverse applications of cutting-edge research, and helping to make that research easier with our technology.
We've recently closed a deal with a company called Spiber. They're a Japanese biotech who have hacked spider DNA into yeast for brewing spider silk. 
Just like you brew an IPA, they're using reprogrammed yeast to brew synthetic fabrics, and disrupting the fashion industry with eco-friendly yarn. Zeros and Ones are pretty cool. Programming biology with As Cs Gs and Ts (DNA base code) takes things to a whole new level.
Tell me about your company culture.
We're an employee-owned company that puts people at the heart of what we do. 
In 2019 we won Employee of the Year at the Somerset Business Awards, which was an amazing achievement for us.
We have a great team who are motivated by our global scientific impact and a shared value for company culture. Whether we're playing table football in the staff room, firing up a barbecue on the deck or throwing some boules in the Japanese garden, we work hard to make a career at Singer Instruments more than just a job.
Who doesn't love a barbecue at the office?
Absolutely. And, actually, our 'office' is undergoing some exciting changes. 
We're currently fitting out a brand new premises, 'The Lab', which will be based within a two minute walk from Minehead seafront. 
The site will be over 5,500 square feet, dedicated to software engineering and robotics prototyping, replete with 3D printers, laser cutters, the works. We'll have a digital studio for online demos, plenty of flexible chillout space, hotdesking, breakout and story mapping spaces. AND... a Class A laboratory for testing our robots on real biology.
That sounds awesome - got any jobs going?
You know it. We're currently recruiting for a number of roles to expand our team of award-winning nerds making robots for biotech.
We're on the hunt for Software Engineers of all levels, Mechanical Design Engineers and a Senior Mechanical Engineer.
If anyone out there wants a tech job at the seaside that makes a real difference, they can find out more on our website
Final question. What, for you, makes the South West a special place to do tech?
What I love about working in tech in the South West is that it really eliminates any barrier between work and play. 
Obviously, working in tech feels like getting paid to have fun, you know, experiment and break things and get creative, and pivot and use neat tools and stuff. 
And being in the shire we're spoiled for play because the conditions are always good for something, and there's no need to travel for it. Sea swimming if it's flat, surfing if there's swell, kitesurfing if there's wind, cycling, mountain biking, running... dog walking... blueberry picking! 
Oh my word, we made such a good blueberry pie at the weekend. [Insert drooling emoticon.]
If solving tech challenges and having office barbecues are your kind of jam, click here to check out the Singer Instruments Prospectus.