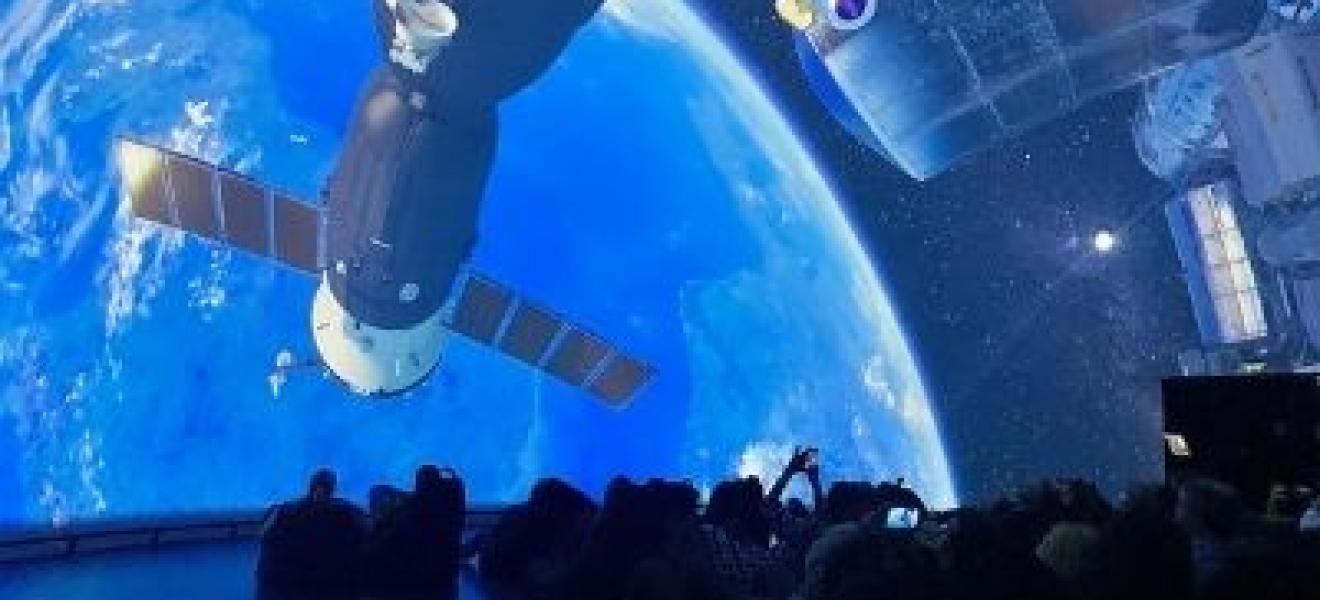 Lindsey Hall: Magic moments in a time of Covid are just the beginning for the Market Hall
In the second of two articles on the the Market Hall in Devonport, Plymouth, Lindsey Hall, chief executive of Real Ideas, which developed the concept, says the venue has become a home for innovation, community, talent development and business growth. For a different view from Bob Stone, Emeritus Professor of eXtended Reality (XR) and Human-Centred Design at the University of Birmingham, please see here: Professor Bob Stone: Plymouth's £7.6m immersive dome will struggle to interest the next generation in virtual reality
It is an understatement to say that 2021 was a complicated year for everyone. For us at Real Ideas, there has been the extra dimension; launching a major new venture, the Market Hall in Devonport, Plymouth.
For those that haven't heard the story, the Market Hall is a beautiful, Grade 2 listed building adjacent to Devonport dockyard. Built on a grand scale in 1852, it was the fruit and veg market for the Tamar Valley and continued to be part of a hugely prosperous Devonport until WW2 wrought devastation. The Market Hall became virtually derelict, and the community struggled in an area that is now in the bottom 10% of areas of multiple deprivation in the UK.
The new millennium saw the arrival of a plan to regenerate Devonport; to build 1500 new homes; and to transform the economic fortunes of the area. By 2014, one of the big questions was, what to do with the Market Hall? It was listed and rightly couldn't be knocked down, but none of the ideas put forward worked. It was impractical for it to be a school; the wrong location for Wetherspoons; and economically unviable as a market.
We were asked to help. It coincided with another, seemingly insoluble question. As a city we have world leading courses in a wide range of creative disciplines, including digital art and technology. Graduates regularly get great jobs around the world with leading global companies or start their own, successful ventures, but very few stay in Plymouth. Something had to be done and looking at other, more successful cities, it was clear that a missing piece of the jigsaw was a physical hub for a creative cluster. Somewhere with workspace, start-up support, practical facilities, activities, and networking – Plymouth's version of the Watershed in Bristol or Second Home in London.
We brought the two problems together and created a plan to renovate the listed building; develop a creative cluster to support start-ups, retain graduates, give new opportunities to the local community, and contribute to the much needed, economic regeneration of the area. Simple, ambitious, and essentially what has happened.
Having said that, the renovation of the building was complex and cost £6.6m simply to create a safe, sound, space, fit for the 21st century. The capital money came from various sources linked to economic regeneration, including support for start-ups, jobs, and growth. We are very grateful to numerous partners who have helped make this possible, especially Plymouth City Council and the HOTSW Local Enterprise Partnership. Halfway through the development process, we were amazed and delighted that the then Chancellor of the Exchequer, Phillip Hammond, awarded us £1 million to install a state of the art, immersive dome, with related production equipment. Managed via Arts Council England, the additional capital funding allowed us to speed up investment in cutting edge technology that gives local companies and start-ups a competitive advantage and easy access to a test bed for a wide variety of 360 content, shared games, interactive performances, and innovative experiences.
Inevitably Covid delayed many things, but the determination of everyone involved won through and we managed to open the doors in the summer. As everyone who has ever started a business knows, getting into a space is only the beginning of the really hard work, especially without any revenue funding. We have invested our own resources, developed a robust business plan, including running a mix of commercial events, alongside targeted activities to support business growth, talent development and community engagement.
We are only a few months in, but already,14 new start-ups are building their businesses using the facilities at Market Hall. Every week people are joining our growing membership, which now numbers over 3,000 and thousands have participated in events, screenings, workshops, symposiums and discussions. This includes people of all ages, from all walks of life, but we are particularly delighted by the enthusiasm and support of the local community who drop in repeatedly, use the café for quiz nights and residents' meetings, and come to the many and varied activities on offer.
There are many highlights, but perhaps the one that best gives a glimpse to the future is the interactive moth experience and subsequent developments. Working with the brilliant Moths to a Flame project, who engage children and families with climate change, and an excellent start-up, Team3, graduates of Plymouth University, we have developed an interactive experience where children and adults colour in a moth and then it is scanned in and flies around the dome.
A super simple concept, beautifully realised by a new tech company for whom it has been just the kickstart they needed, both in terms of financial investment and experiencing the joy of children and adults alike. Over a two week period, more than a thousand people came to create and fly their own moth, relishing time spent safely together in an extraordinary environment. Team3 have developed further iterations and as well as meaning people can create their own snowflakes and Christmas baubles in our dome, they are being approached by customers in other parts of the world.
After the very difficult year we have all had and with dark clouds yet again on the horizon, it was very lovely to see delighted faces and be told we have created magic.
In truth, it is a lot of hard work, by very talented people, but this is only the beginning and we are determined the Market Hall will continue to grow as a home for innovation, community, talent development, business growth and magic moments. If you haven't been yet, do come and get involved.