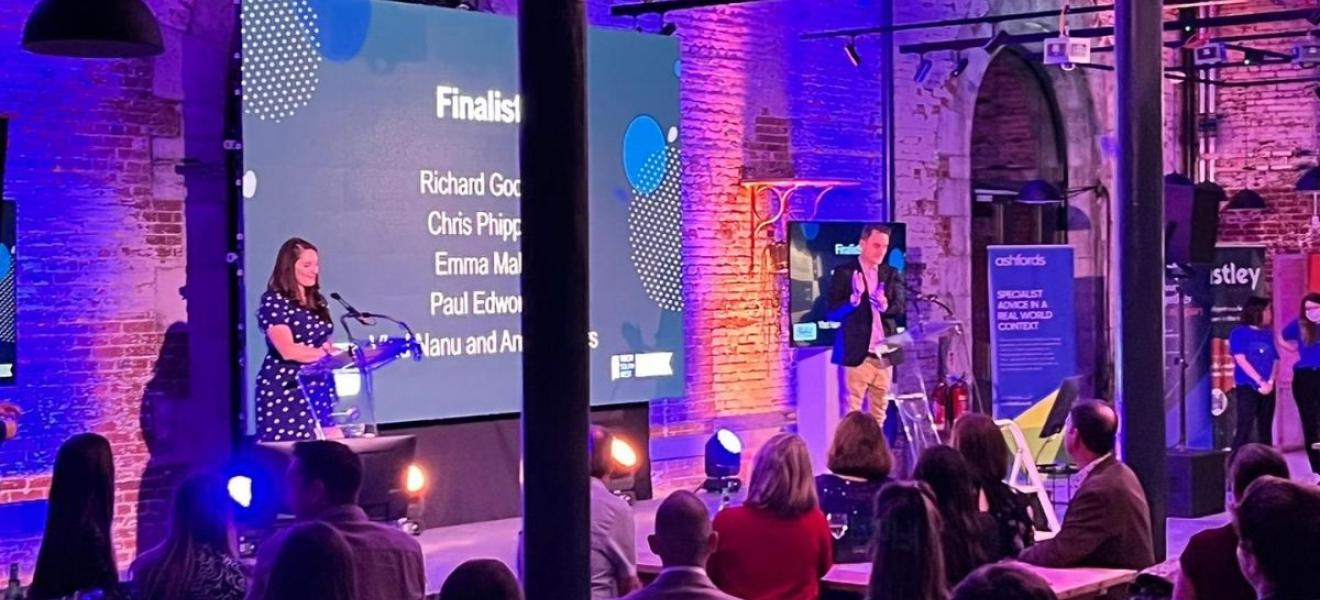 Best in tech revealed at Tech South West Awards 2021
Winners of this year's Tech South West Awards have been revealed at a live ceremony at the new multi-million pound Market Hall and Immersive Dome venue in Plymouth.
Artificial reef systems, satellite-powered earth observation and filtration systems to tackle microplastic pollution were among the innovations celebrated at the annual technology awards covering the entire South West region.
Tech leaders and organisations from across the South West tech sector attended the event, now in its third year, which showcases the region's fastest growing sector.
ARC Marine, RoleMapper and DigiLocal were amongst the winners of the prestigious awards.
Pippa Clarke, Head of Technology, Innovation and Growth at Bishop Fleming, the Headline Partner for this year's awards, said: "The Tech South West Awards 2021 were a fantastic showcase of the tech talent and innovation taking place in the region, and Bishop Fleming are delighted to have been a part of it. SInce they first took place in 2019, Bishop Fleming have been proud to support the awards and help to celebrate and recognise the region's fantastic tech sector."
Brixham-based ARC Marine creates sustainable, recycled reef structures anywhere in the world. Their patented Reef Cubes® are manufactured from the company's marine-friendly concrete mix that is carbon neutral from the point of manufacture and plastic-free. This helped them to scoop the Innovation Award, which celebrates organisations leading the field with creative problem solving and new technologies. Encortec, a spin-out from the University of Exeter's Energy Harvesting research group, won a commendation.
ARC Marine also won the Marine Tech Award, a new award for 2021 which showcases companies making waves in the marine tech sector.
RoleMapper, based in Exeter, has developed the world's first intelligent job design platform, helping organisations design increased job and workforce flexibility. The company, which has grown from concept to a robust commercial product in just 12 months, won Best Startup. A judges' commendation went to Intelligent AI, a company using machine learning to disrupt the insurance sector.
Toby Parkins, chair of Tech South West and director of Cornwall-based software firm Headforwards, a category sponsor of this year's awards, said: "The Tech South West Awards are a powerful way of highlighting the groundbreaking innovation taking place in the South West region, whether in health tech, robotics, marine science, engineering or sustainability. As the region's fastest growing sector, as well as one of the most resilient parts of the economy, it's a real pleasure to take part in an annual celebration of the individuals and organisations doing great things in tech in the South West."
DigiLocal won the Commitment to Diversity Award in recognition of its support for under-represented groups in the high tech industries. The Bristol-based charity works with local communities to deliver free technology clubs for young people.
Mike Barritt, one of the founding directors of the not-for-profit organisation Software Cornwall, won the Lifetime Achievement Award in recognition of his positive contribution to the sector, including founding the annual Agile on the Beach conference which attracts attendees from all over the globe.
Bristol-based Matter won the Clean Tech Award for their commitment to tackling plastic pollution. The company has developed technology to capture microplastics in wastewater, and transform waste microfibres into a valuable resource.
The Workplace Culture Award went to Somerset-based Singer Instruments, who develop laboratory automation to accelerate research, with Bath-based software firm Rocketmakers securing a judge's commendation.
Richard Godfrey, CEO of Rocketmakers, also won the Tech Entrepreneur of the Year Award, with Chris Phippen of Hatless Studios and Emma Mahy of IoT Solutions Group securing commendations.
The Future Tech Award went to Pixalytics, an earth observation company based at Plymouth Science Park specialising in satellite remote sensing. The company has supported a range of projects across the globe including investigating the sustainability of sand mining in Kenya, identifying plastic in the coastal zone in Indonesia through a European Space Agency funded project, and identifying waste plastic and tyres in urban areas in Singapore.
Devonport High School for Boys won Best Education Initiative in recognition of their commitment to teaching digital skills. A judges' commendation went to Bath-based coding bootcamp iO Academy.
Ash Coles, a software developer trainer at iO Academy, won the Teach Tech Award in recognition of his inspiring commitment to his students. Jack Bukin of Cosmic, based in Honton, secured a judges' commendation.
The Health Tech Award went to Exeter-based Spatial Quotient, a company developing wearable technology to boost efficiency in hospitals, with Best Scaleup going to Bristol's fast-growing ecommerce firm Huboo Technologies.
Dan Pritchard, co-founder of Tech South West, said: "The tech sector in the South West is one of the most vibrant in the country. From marine tech hubs like Plymouth to cyber in Cheltenham, photonics in Torbay and software in Cornwall, innovative science parks in Exeter and Plymouth, and outstanding university partnerships like the SETsquared programme and Falmouth Launchpad, the sector is full of cutting edge collaboration. The Tech South West Awards are all about celebrating that and showcasing the very best in the sector, from startups to scaleups and companies with global reach. A huge congratulations to the winners and to all the finalists.
"The awards are just one part of Tech South West's mission to help bolster the region's tech sector, alongside initiatives such as the fully-funded StartUp Studio accelerator programme for early stage tech firms, and the Tech Talent programme. In early 2022 we are also publishing an in-depth review of the sector, led by Whitecap Consulting, which will highlight the strengths, weaknesses and opportunities facing the sector. It truly is a wonderful time to be working in and around the tech sector in the South West."
The Tech For Good Award, which celebrates individuals and organisations using technology to improve social, environmental and economic outcomes, went to Bristol-based WordPress and WooCommerce studio Atomic Smash. The company was recognised for its work with The Grand Appeal, the dedicated charity for Bristol Children's Hospital. The sustainable business hub and carbon consultancy firm Future Leap, based in a carbon neutral hub in Bristol, earned a judges' commendation.
The Tech Company of the Year Award (revenue up to £5m) went to Salisbury-based A2Z Cloud, with Bay Photonics, based in Paignton, securing a commendation from the judges.
Truro-based music distribution company RouteNote won Tech Company of the Year Award (revenue over £5m). The company, which has around 600,000 users in over 193 countries.
The International Success Award went to another Cornish company, Feritech Global, based in Falmouth. The advanced marine engineering company has clients in over 40 countries, including some of the world's leading universities in offshore and maritime research, governments, and the emerging Offshore Floating Wind market.
The People's Choice Award, chosen by live voting on the night, went to Storm Consultancy and Co-forest, with Cluster Awards for each local area going to Software Solved in Exeter, DigiLocal in Bristol & Bath, Applegate in Northern Devon, Bay Photonics in Torbay, RouteNote in Cornwall (with Hiyield highly commended), Devonport High School for Boys in Plymouth, Synergy Cloud in Somerset, MiTEQ in Wiltshire and Passenger winning the Dorset Cluster Award with IoT Solutions Group highly commended.
Supporting the awards were Headline Partner Bishop Fleming, Supporting Partners Ashfords and Ashley Media, Drinks Reception Sponsor Navos, Event Partner JHAV and category sponsors Propeller Tech, Plymouth Science Park, Exeter Science Park, Rocketmakers, Granted Consultancy, CA Tech Talent, CoreBlue, UK Hydrographic Office, First Databank (FDB), Greaves Brewster, Michelmores, Digital Skills Partnership (Cornwall and Isles of Scilly LEP and Heart of the South West LEP), Storm Consultancy, Interaction, Headforwards, Software Solved, Boost & Co, Bluefruit Software, South West Tech Daily and RSM.
The tech sector is the fastest growing part of the South West economy, generating £9bn in turnover, employing upwards of 68,000 people and attracting over £500m in VC investment in 2020.
See the full list of winners at techsouthwest.co.uk/2021-winners