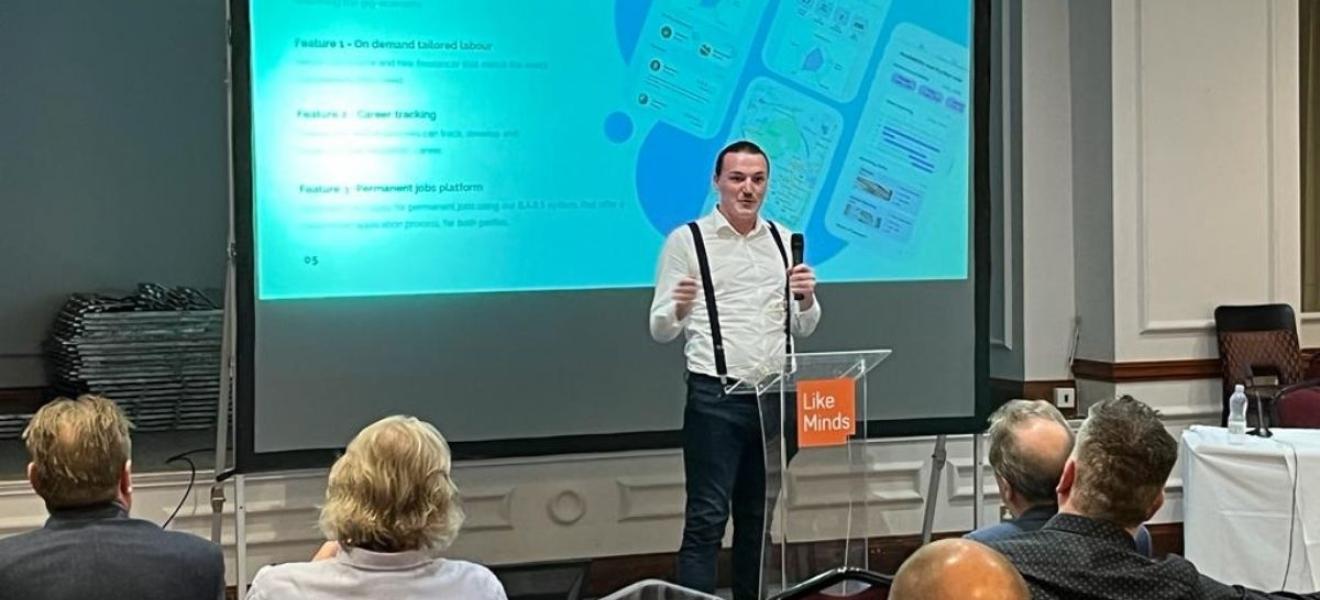 South West founders pitch to impress at Like Minds Festival
An edtech app for homeschoolers, robotic learning toys for children, and a digital employment platform for the hospitality industry were among the innovations showcased at the Like Minds Nudge Ideas Festival, held on Friday 25 March in Exeter.
With speakers of national significance in attendance including science leaders, former BBC presenters and globally successful entrepreneurs, the summit included PitchFest, curated by Tech South West and powered by Exeter Science Park.
Four South West-based tech founders pitched their innovations to the crowd as they vied for funding to secure their next stage of growth.
The pitches were:
Sarah Cudmore graduated last year from the Tech South West StartUp Studio, a fast-paced virtual accelerator for tech founders in the region. An education specialist and former headteacher, she has developed the Collage platform for homeschool families to capture and track their child's learning.
Sarah said: "It was great to be part of PitchFest. There's a supportive tech community in the region and part of the journey for any startup is getting out there, pitching, building relationships and opportunities.
"Collage is an innovative, tried and tested online platform, developed ahead of imminent UK legislation that will expect every family to register and prove they are providing a suitable education.
"We are aiming to capture the growing UK market by the end of year 1, both direct to customer and via Local Authority partnerships before moving into Canada and the USA. We are ready to lead the way ahead of legislation and are looking for a £150K investment to take Collage to profitability and plan to spend this on product development, sales team and marketing."
David Smee, a graduate of the StartUp Studio Autumn 2021 programme, also pitched at the event. A keen advocate for animal welfare and conservation. David developed AniBotics to teach children about animals via AI and robotics. 
Aqsa Farooq, a psychologist, research assistant and PHD student at the University of Exeter, presented Ceyber, an online game helping children learn about cyber risks.
Ewan Moran, based in Exeter, also pitched. After working as a bartender, he has developed Barback, a freelancing and jobs platform for the hospitality industry.
Dan Pritchard, co-founder of Tech South West, said: "Hats off to these forward-thinking innovators for getting in front of such a high-powered crowd and delivering four high quality pitches.
"These four entrepreneurs are testament to the vibrancy and dynamism of the South West tech sector, which is the fastest-growing part of the region's economy. It was a pleasure to work with Exeter Science Park in bringing together PitchFest, and support founders from the region to showcase themselves and connect with potential investors."
Dr Sally Basker, CEO of Exeter Science Park, who powered PitchFest, delivered a keynote speech at the festival. She spoke on "Science, Leadership and the Growth Economy" and the importance of supporting scientific endeavours to drive innovation, opportunity and growth. 
Tech South West is the tech cluster for the entire South West region. Find out more and become a member at techsouthwest.co.uk
To learn more about the four startups, contact hello@techsouthwest.co.uk